Wavegarden continues global expansion with agreement to develop seven surf parks in Japan
Artificial surf wave technology group Wavegarden has announced an agreement to develop seven surf parks in Japan.
The agreement with Japanese promoter JPF - which has extensive experience in the development of macro sporting projects, specifically in the successful development and management of six velodromes - comes on top of five other Wavegarden projects under construction around the world and a further 47 under development across five continents.
Established in 1957, JPF Co., Ltd. has built and operated six cycling stadiums and one motorcycle stadium across Japan. The company has also been involved in large-scale projects to install international sports business destinations in various regions of Japan, such as the renovation of the Chiba Bicycle Racecourse from an existing domestic standard facility to an international standard stadium.
In working with Wavegarden, the company has established a division specialising in wave pools and surf parks.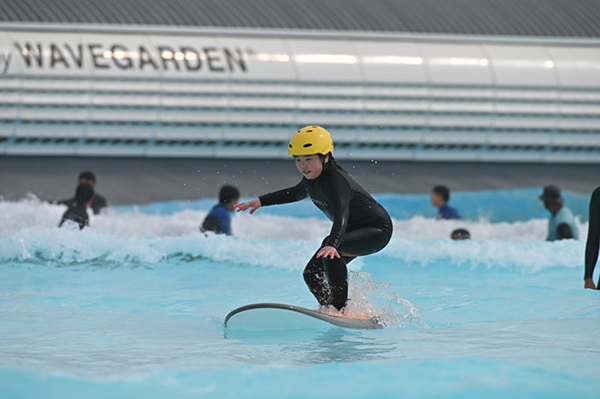 Offering the greatest variety of waves and user capacity, with the lowest energy and water consumption, Wavegarden Cove technology was introduced to Asia at the largest surf park in the world, Wave Park, near Seoul, in 2020 - a project being the result of an alliance with the Daewon Plus Construction group, one of the main real estate and theme park developers in South Korea.
In July, Wavegarden also announced a new alliance in Latin America that will see it work with Brazilian developer, KSM Realty over the next 10 years.
This followed the success of Praia da Grama, the world's first tropical beach with artificial waves in a private condominium estate.
In Australia, the Aventuur group is planning to build one of the world´s largest Wavegarden Cove´s in Perth while in the UK, a proposal for a new Wavegarden project in Manchester just received the green light.
Other Wavegarden projects are underway in Sydney; Garopaba, Brazil and Coachella, USA.
Click here to contact Wavegarden via their entry in the Australasian Leisure Management Supplier Directory.
Images: Wavegarden Cove technology at Praia da Grama in Brazil (top) and at the largest surf park in the world, Wave Park, near Seoul in South Korea (below). Credit: Wavegarden.
Related Articles
6th October 2021 - Study ranks Wavegarden Cove as most energy efficient surf park technology
15th September 2021 - Layne Beachley named as one of two new URBNSURF board members
12th September 2021 - Western Australian Government announces Aventuur as preferred developer of Perth surf park
23rd July 2021 - Surf park developer Aventuur announces new executive team appointment
15th July 2021 - Two groups look to develop Perth surf park
13th July 2021 - Japan and USA Olympic Surf Teams to train at PerfectSwell Shizunami
21st June 2021 - Global developments in surf park projects
17th May 2021 - URBNSURF releases renders for planned Sydney surf park attraction
13th May 2021 - Endless Surf add key personnel to meet demand for the surf park attraction
1st April 2021 - Surf Lakes Yeppoon developers look to transform prototype into visitor attraction
19th February 2021 - American Wave Machines reveal near completion of Surf Stadium Japan facility
13th October 2020 - Asia's largest surf park opens in South Korea
17th September 2020 - Wavegarden facility shows therapeutic benefits of surfing
19th June 2020 - Wavegarden looks to future delivery of surf parks around the world
8th May 2019 - Construction commences on South Korean Wavegarden Cove attraction
7th February 2019 - World's largest surfing lagoon to be built in South Korea
7th September 2018 - World Surf League stages first Tour event using artificial wave technology