Powerhouse Museum exhibits ancient stone figures for the first time outside of Korea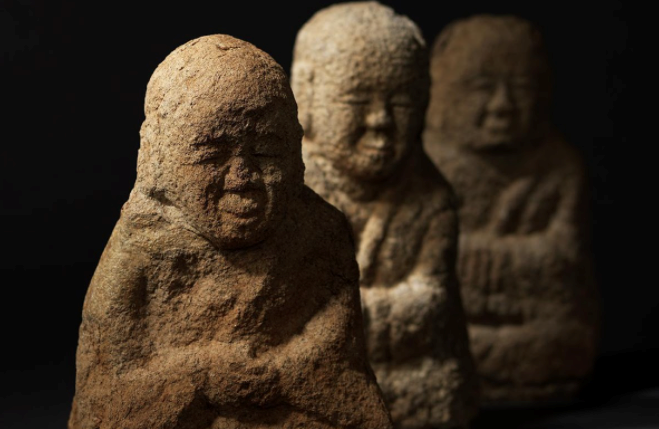 Sydney's Powerhouse Museum will open their exhibition Five Hundred Arhats on 2nd December– a major presentation of historic arhats shown for the first time outside of Korea. The exhibition coincides with and celebrates the 60th Anniversary of the establishment of diplomatic relations between Korea and Australia.
The arhats are ancient stone figures discovered in 2001-02 among the ruins of the Changnyeongsa Temple in South Korea's Gangwon-do Province, believed to have been built during Goryeo dynasty (918-1392) and destroyed in mid Joseon dynasty (1392-1879). The stone statues depict 'arhats' - 'nahan' in Korean - known in Buddhism as one who has attained enlightenment.
The Five Hundred Arhats represent five hundred disciples of the Buddha who gathered to compile his words into scriptures after the Buddha entered nirvana. Although they have attained enlightenment, they defer entering nirvana themselves and remain in their human state in order to teach and save sentient beings. The arhats have been carefully restored by Chuncheon National Museum of Korea and this Australian premiere marks the first time the arhats have been seen outside Korea.
Presented in collaboration with the Chuncheon National Museum of Korea, the exhibition will present 50 stone arhats and one Buddha in an immersive exhibition designed by contemporary Korean artist Kim Seung Young.
Five Hundred Arhats is the final instalment at Powerhouse Ultimo for 2021. Five Hundred Arhats opens alongside the Powerhouse's world-class collection as well as contemporary collaborations and artist commissions in eight new exhibitions presented across Powerhouse Ultimo - including the refreshed and reimagined Boiler House and Turbine Hall.
Marking the first time the Powerhouse has launched this many new exhibitions together since the opening of the Ultimo building in 1988, the new exhibitions presented are Eucalyptusdom, Robert Rosen: Glitterati, Clay Dynasty, Electric Keys, Graphic Identities, Microcars, Invisible Revealed and Five Hundred Arhats.
Exhibition: Opens 2nd December 2021 to 15th May 2022
Image: Arhats engaged in spiritual practice, Chuncheon National Museum of Korea
Related Articles
22nd October 2021 - Powerhouse Parramatta receives $30 million donation to deliver STEM education experiences
17th August 2021 - Powerhouse Museum announces appoint of Mark Wilsdon to new Chief Operating Officer role
16th June 2021 - $480 million to transform Sydney's Powerhouse Ultimo into design and fashion precinct
20th May 2021 - Sydney's Powerhouse Museum announces inaugural Director, First Nations
4th May 2021 - Powerhouse Museum announces major exhibition on history of the Eucalypt
13th February 2021 - NSW Government gives planning consent for new Powerhouse Museum at Parramatta
3rd November 2020 - Powerhouse Museum expands support of NSW Creatives with 2020 Residency Program
22nd September 2020 - Powerhouse Museum partners with the Westmead Institute for Medical Research
5th July 2020 - NSW Government reverses plans to relocate Sydney's Powerhouse Museum
29th June 2020 - Sydney's Powerhouse Museum continues tours and extends exhibitions
29th May 2020 - City of Parramatta urges NSW Government to deliver on relocating Powerhouse Museum
17th December 2019 - Moreau Kusunoki and Genton architects to design Sydney's new Powerhouse
16th April 2019 - Powerhouse Museum celebrates 50th Anniversary of the moon landing with virtual reality experiences