EarthCheck extends global sustainability partnership
Global scientific benchmarking, certification and advisory group for tourism, EarthCheck, has extended its global network of partners by welcoming, Belmond, the LVMH owned luxury hospitality and leisure collection into the EarthCheck Certified program.
Working in over 70 countries across the globe with some of the world's leading hospitality and hotel brands and destination, the EarthCheck program allows a client to apply sustainability and circularity principles to the design, construction, operation and refurbishment of assets which sit across the tourism supply chain.
Providing luxury travel experiences, Belmond will now have access to EarthCheck's credible and evidence-based data to support their business planning and decisions, guaranteeing they meet the needs of the new carbon economy.
There is now a heightened awareness of climate change following 18 months of global reflection and the release of the recent IPCC report which has called for urgent action by both industry and policy makers. EarthCheck provides easy to use tools and reporting templates that help operators to understand and plan for risk management, decarbonisation, and net-zero road maps.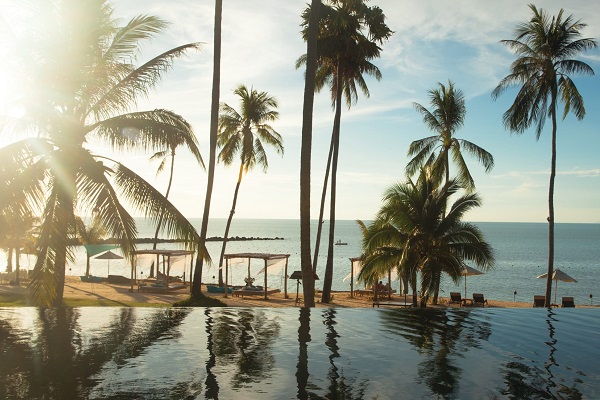 Commenting on the partnership with Belmond, EarthCheck founder and Chief Executive, Stewart Moore stated "I am delighted to welcome a brand leader such as Belmond to the EarthCheck family.
"This offers a unique opportunity to work together to help deliver responsible and authentic travel products and experiences. Travel can be a force for good and Belmond are positioning themselves to lead the way, ensuring that sustainability is core to their future."
After a global pause for the industry, Moore says "it is also heartening to see a return to a focus on the sustainable design, construction and operation of tourism infrastructure", referring to the investment and commitment that Belmond have made, not only to the EarthCheck Certification of their current portfolio, but to their pragmatic and innovative approach to their ongoing sustainable design and renovation of their hotels, resorts, vessels and trains.
Creating luxury travel experiences worldwide, Belmond offers a collection of 46 hotels, trains and river cruises in 22 countries that include some of the world's most thrilling journeys and destinations.
Images: Belmond's Road to Mandalay cruise on Myanmar's Irrawaddy River (top) and the luxury Napasai resort on the Thai island of Koh Samui (below).
Related Articles
10th September 2021 - 2021 World Tourism Day set to celebrate inclusivity
30th June 2021 - United Nations report says COVID-19 impact on tourism could deal $4 trillion blow to global economy
25th July 2021 - New WTTC report launches framework for achieving Destination Stewardship
16th July 2021 - WTTC highlights need for international recognition of all approved COVID-19 vaccines
23rd June 2021 - Vietnam's Alma Resort recognised among the world's top independent luxury resorts
28th March 2021 - PATA releases growth scenarios forecast for Asia Pacific destinations
7th February 2021 - Anantara Resorts reopens luxury destinations on Abu Dhabi's Yas Island
12th August 2020 - Coronavirus downturn sees closure of Indonesia's luxury Bintan Lagoon Resort
21st July 2020 - ICC Sydney awarded EarthCheck Environmental Certification  
4th March 2020 - Sofitel introduces luxury wellness programs into Myanmar
7th November 2018 - EarthCheck secures Brisbane Lord Mayor's Business Award
29th January 2018 - Awards recognise EarthCheck's relevance to global tourism
27th September 2017 - EarthCheck prized for innovation on World Tourism Day
20th June 2017 - Luxury ecotourism development approved for Christmas Island
29th July 2016 - Luxperience increases floor space due to demand
14th June 2016 - EarthCheck and Griffith University partner on sustainable tourism
14th January 2016 - Darwin Convention Centre gains EarthCheck recognition for sustainability
2nd May 2015 - Ecotourism in Protected Areas the focus of Myanmar conference
21st March 2014 - Earthcheck event to address tourism sustainability