Clip 'n climb launches its Champion's series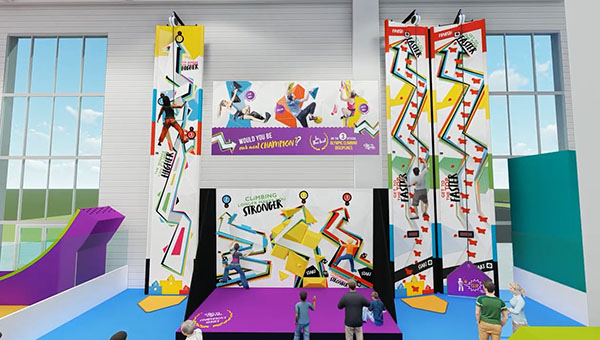 International recreational climbing operator Clip 'n Climb has launched its Champion's Series - a set of three new walls based on each Olympic discipline: Lead, Bouldering and Speed Climbing.
The full Champions Series set-up of two Speed walls, a Boulder wall and a Lead wall accommodates a minimum of 12 visitors in 50 square metres area. It can be installed in the corner of an existing Clip 'n Climb arena or as a stand-alone attraction in a mall or resort, or one or two Champions walls can be exchanged for existing Challenges.
The Champion's Series has been designed to broaden the sport's appeal and attract and retain new customers, while also capitalising on the buzz that is likely to develop around climbing as it features in the Olympic Games for the very first time this year. Given that 50% of the world's population watched the 2016 Games, interest in the sport can be expected to increase.
Climbing and leisure centres, gyms, and shopping malls will be able to recreate their own Clip 'n Climb representations of the climbing disciplines audiences throughout the world will watch this year in the Olympics and the World Cup.
Lead wall: The winner can climb higher
This wall starts with an accessible level of difficulty but becomes more challenging as the climber ascends. It will take several attempts for climbers to reach the top and claim their gold medal.
Boulder wall: Climbing longer makes you stronger
This shorter wall represents a new approach for Clip 'n Climb, as climbers are not attached but kept safe by a thick foam bouldering mat. The wall offers bronze, silver and gold levels of challenge, and can accommodate three climbers at once. Bouldering is the most popular discipline within sport climbing.
Speed wall: Get to the top faster
Speed walls have proved to be among the most popular Challenges in Clip 'n Climb facilities. The new Champions version encourages customers to challenge other climbers to a race or simply test their own limits and improve their time. These walls can be equipped with Trublue Speed AutoBelays, which offer fast retraction specifically suited to speed climbing.
Marketing around these new walls will emphasise a number of unique selling points:
Broader appeal
The Champion's Series is designed to broaden the appeal of Clip 'n Climb to attract an older audience, including teenagers, parents and team building groups, while remaining suitable for children aged four and over. The new walls are expected to boost repeat visits by maximising engagement, excitement and challenge.
A competition atmosphere
The Champion's Series recreates the atmosphere of an elite competition, with three clearly defined disciplines, gold, silver and bronze medals, evolving levels of difficulty, and the potential for spectator involvement. There is a video option designed to mirror the feel of a real competition by enabling facilities to create an eye-catching viewing area around the Champions walls, and allowing climbers to see their ascent streamed live or in playback. The screen can also be used at any time to replay videos and show Olympic and World Cup events to attract climbers to the new walls.
Ready-made marketing materials
Clip 'n Climb is helping its investors ensure maximum visibility for the new walls and create an exciting atmosphere around them by providing ready-to-use materials including posters, t-shirt designs, signage panels, and medals.
Clip 'n Climb was founded in Christchurch, New Zealand in 2005 by John Targett and Tim Wethey. It is the international market leader of the fun climbing industry, with over 300 energy-filled facilities worldwide.
For more information go to clipnclimb.com/
Related Articles
19th February 2021 - Clip 'n Climb launches branded website and booking system globally to improve customer experience
2nd April 2020 - Clip 'n Climb launches new capsule Prima range
24th October 2019 - Clip 'n Climb launches whitepaper on the future of 'sportainment'
22nd November 2017 - Construction underway at Western Australia's first Clip 'n Climb centre
1st August 2017 - Clip 'n Climb launches new climbing challenges
11th April 2017 - Clip 'n Climb facility to open in Williamstown
4th January 2017 - Clip 'n Climb welcomes opening of 100th centre
11th January 2016 - International success and multiple installations for Clip 'n Climb through 2015
6th May 2014 - Australia's first Clip 'n Climb centre opens in Melbourne