Abu Dhabi's investment in culture 'does not just mean' museums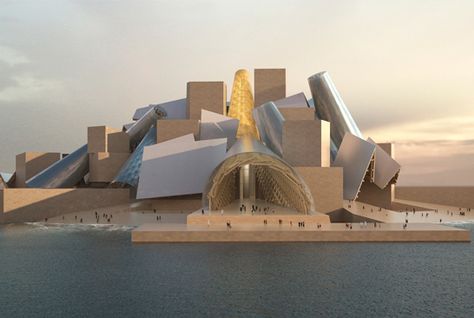 The Chairman of Abu Dhabi's Department of Culture and Tourism has indicated that while the Emirate remains to the development of Guggenheim Abu Dhabi and the Zayed National Museum, its aspirations to develop cultural and creative industries goes beyond buildings.
Speaking to The Art Newspaper at the preview of last weekend's Abu Dhabi Art 2021, DCT Abu Dhabi Chairman, Mohamed Khalifa Al Mubarak revealed "in Abu Dhabi there has been a very clear and conscious decision to invest in culture, and investing in culture does not just mean buildings," Al Mubarak said.
"We're investing in infrastructure, both soft and hard - whether it's institutions, music programs, or school curricula."
The Government of Abu Dhabi pledged to invest US$6 billion in cultural and creative industries earlier this year on top of the Guggenheim Abu Dhabi and the Zayed National Museum on Saadiyat Island, which already offers the Louvre Abu Dhabi.
While confirming that construction on the much-delayed institutions is continuing, Al Mubarak revealed little about the developments, merely advising "we will always be involved in projects of scale, but we are also in a position to incentivise and subsidise different artists and create opportunities for them here, not just from the UAE but regional artists, from Lebanon or Jordan."
In September he advised "Guggenheim Abu Dhabi, along with other cultural institutions such as Louvre Abu Dhabi and Zayed National Museum, will undoubtedly contribute significantly to a thriving creative scene
"The region's pre-eminent museum of global modern and contemporary art, Guggenheim Abu Dhabi will present an equitable platform for art from all over the world."
The Guggenheim Abu Dhabi is on track to complete by 2025 while the Zayed National Museum is currently scheduled to open in 2023.
Image: The concept for the Guggenheim Abu Dhabi. Credit: DCT Abu Dhabi.
Related Articles
18th November 2021 - NBA to play preseason games in Abu Dhabi in October 2022
16th November 2021 - Home to 46,000 marine exhibits the National Aquarium Abu Dhabi opens doors to visitors
16th November 2021 - World's first Warner Bros. Hotel opened on Abu Dhabi's Yas Island
25th September 2021 - 2026 opening date revealed for long delayed Guggenheim Abu Dhabi
6th September 2021 - Abu Dhabi launches new process to verify international vaccination certificates
23rd August 2021 - SeaWorld Abu Dhabi to feature world's largest aquarium
17th August 2021 - UFC Fight Island set to return to Abu Dhabi in October
6th July 2021 - New cricket oval opened in Abu Dhabi in advance of IPL and T20 World Cup
29th June 2021 - Live concerts to return to Abu Dhabi's Yas Island from July
29th June 2021 - Abu Dhabi to restrict access to public places to vaccinated people only
27th April 2021 - Abu Dhabi Government champions new tourism quality controls
17th April 2021 - Anantara's Abu Dhabi desert resort enhances sustainability initiatives
14th April 2021 - Abu Dhabi's Ministry of Health launches 'Ma'kom in Ramadan' health promotion program
24th March 2021 - Abu Dhabi's Miral introduces facial recognition at Yas Island theme parks
16th February 2021 - Hilton Abu Dhabi Yas Island will welcome guests from 18th February
8th February 2021 - Ferrari World Abu Dhabi marks 1,000 experiences milestone for Roof Walk and Zip Line
15th December 2020 - Yas Island Abu Dhabi rewards frontline workers with visits to Abu Dhabi Grand Prix 2020 and attractions
3rd September 2020 - Louvre Abu Dhabi announces free access for select groups can see the museum for free
31st August 2020 - Abu Dhabi Government advances 'safe zone' concept for large scale events
25th August 2020 - Formula 1 adds Abu Dhabi, Bahrain and Turkey to 2020 race calendar
21st May 2020 - Abu Dhabi Government launches safe and clean certification program
26th April 2019 - Delayed Guggenheim Abu Dhabi project now set for 2022 opening
10th December 2017 - Dubai Parks and Zayed University encourage young Emiratis to consider leisure industry careers
18th May 2017 - Officials insist Guggenheim Abu Dhabi will be built
1st October 2013 - New luxury resort for Abu Dhabi's Saadiyat Beach District